What is iPMC2?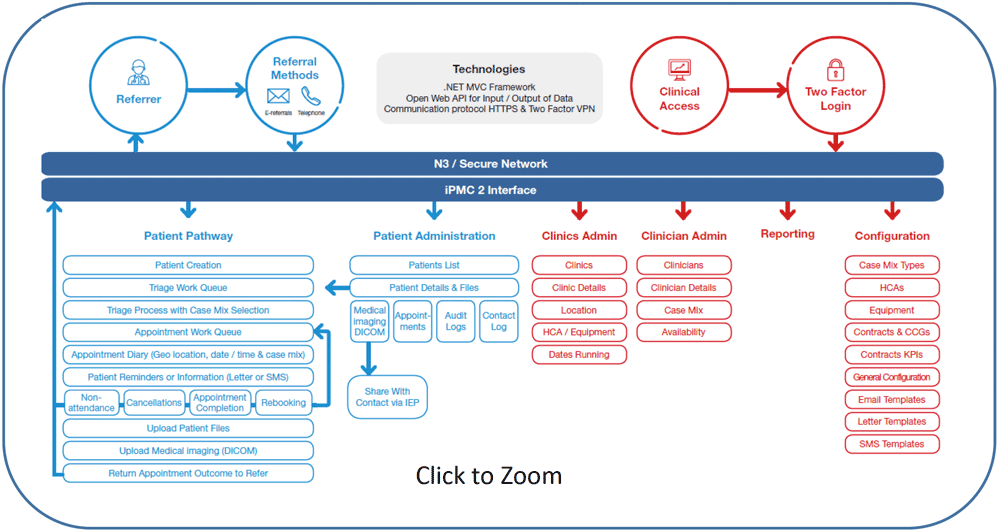 iPMC2 is a platform that effectively manages the end to end patient pathway. It uniquely combines the hallmarks of a traditional Patient Administration System (booking appointments, storing results etc) with the features of a RIS/PACS system.
The system is i-daptable™ which has additional capability of clinical triage, clinical operations management, asset management and tracking, staff performance and customer quality and performance reporting.
Using a worklist approach, iPMC2 ensures that patient pathways are managed against pre-set time scales. A user can then confi gure these against each customer's or contract's requirements. For example, Urgent or Cancer Pathways will have different thresholds for contacting and seeing patients than routine pathways. The system will automatically fl ag where patients are approaching the end of time thresholds and prioritise patients on worklists dependent on their selected pathways (RTT).
iPMC2 also offers advantages to patients, as at the point of booking, it will identify the nearest available clinics/locations to the patient based on their postcode. This allows booking staff to give appropriate choice swiftly to patients. Real time reporting capability within iPMC2 ensures that we are able to quickly identify where additional capacity is required or where resources can be re-deployed. This is an essential tool when optimising efficiency.
What did this mean for Physiological Measurements Ltd?
Benchmarking performed in 2016 (3 months after software rolled out) demonstrated that iPMC2 improved key workflows by 85% within the Patient Management Centre. This enabled PML to successfully manage a period of rapid growth within the organisation and NHS referrals increased by 100% between January 2016 and January 2018.