Today and Tomorrow (10th/11th November) we are at BSEcho 2017 - if you are there come and see us at stand 15
Come and chat to us about our community services and our fantastic opportunities.
We also have a BATAK Challenge - can you beat Keith who got 70!
Exciting Times - we are very close to opening our new NHS Community Ultrasound Clinic, at St Georges Shopping Centre, Gravesend.
The clinic will be officially opened by MP Adam Holloway on 24th November 2017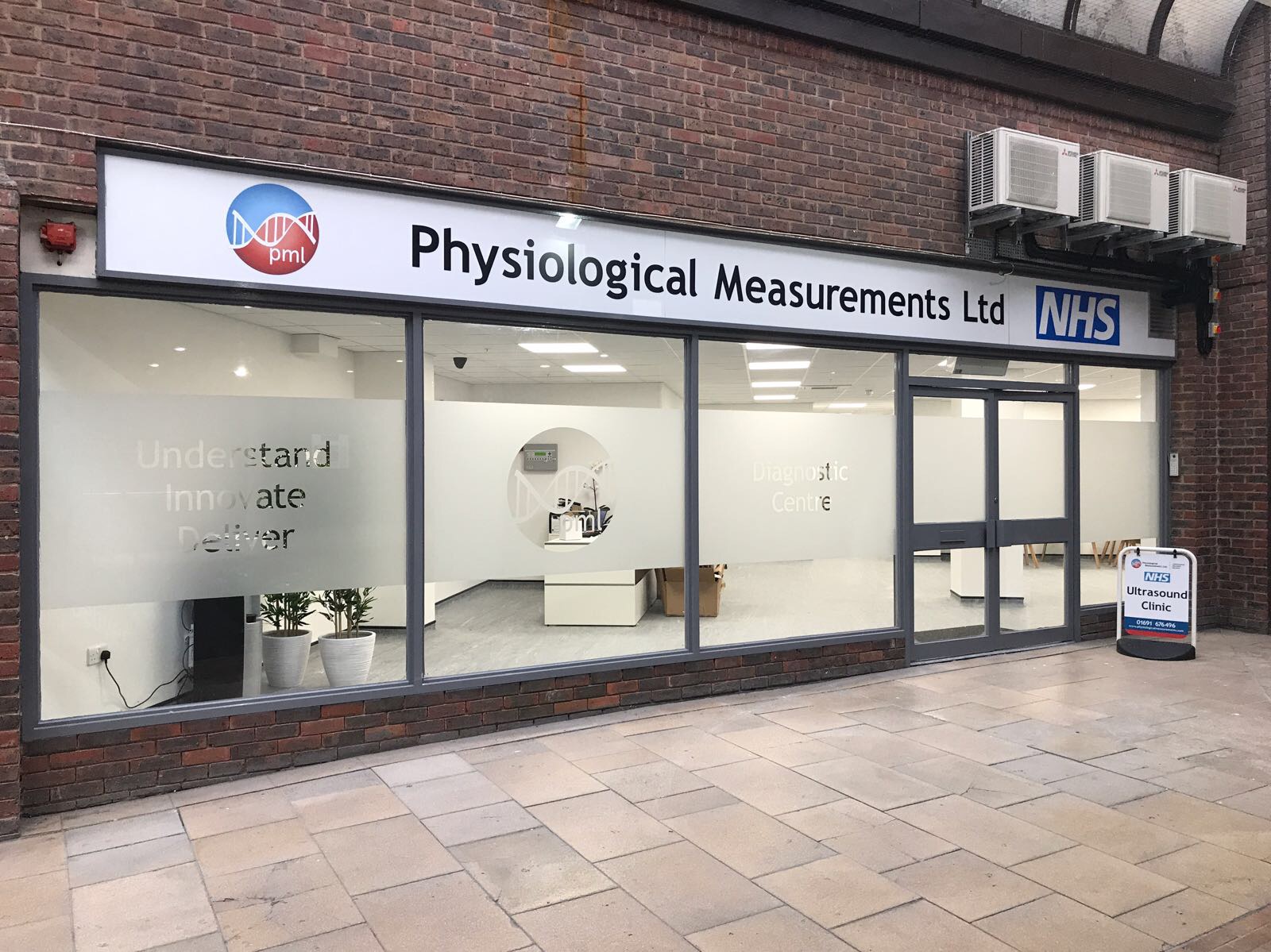 Thank you to everyone who contributed towards our Macmillan Coffee Morning
We had some very yummy cakes, and it was fantastic to share the coffee morning with some of our patients too!
We are proud to say we raised £84 at the coffee morning which has been matched by Physiological Measurements giving us a grand total of £168 for Macmillan Cancer Support
Are you in Oswestry this Wednesday?
Please come and Join us to eat yummy cake and raise money for a great cause - Macmillan Cancer Support
When: 4th October at 10am
Where: Physiological Measurements Ltd, Old Malt House, Willow Street, Oswestry, SY11 1AJ
Looking forward to seeing you there!
We are excited to announce we are opening a New NHS Ultrasound Clinic in St Georges Shopping Centre, Gravesend
The shop fitters are in and we are hoping to run our first clinic in the next 6-8 weeks. This clinic offers local patients the convenience of being located in a central location with evening and weekend opening times!
Keep tuned for further updates - But looks like the shop fitters have some work to do over the next few weeks!
75 years and cycling from Land's end to John O' Groats!
PML's Executive Director Jon Pither's Dad, Richard, is celebrating his 75th birthday by cycling from Land's End to John O'Groats! His 847-mile journey from coast to coast will be cycled over 15 days, averaging a grueling 75 miles a day.
Richard is raising money for Village Water , a charity that is proudly supported by Physiological Measurements . By combining improved sanitation facilities, hygiene education and access to safe water, Village Water transforms lives. Since 2003, 800 ... communities have been reached.
This is a cause close to Richard's heart and he has raised over £250,000 from Rotary Clubs across the UK for Village Water.
To find out more about Village Water and the life-changing work that they do, visit https://villagewater.org/ .
If you would like to donate towards this worthy cause please visit https://www.justgiving.com/fundraising/richard-pither1 or send a cheque to Village Water at 8a College Hill, Shrewsbury, SY1 1LZ and mark the back 'Richard Pither LEJOG2017'.
Good luck to Richard from everyone at PML!
Massive congratulations to our clever staff who have recently passed their Chartered Management Institute Level 5 Award in Management and Leadership!
Fantastic! PML - Investing in Peoples Development.
It's been a busy few months here at PML!
We have started new NHS Community General Ultrasound services in East and West Sussex. With 100% of these patients saying they would recommend us to family and friends!! Not a bad start - congratulations to all our team involved!
A quote from a patient 'The service was very efficient and the staff were very pleasant and kept you informed at all times of the procedure. Excellent.'
We are delighted to be able to support our chosen charities!
£971.52 has been shared between - British Heart Foundation, Help for Hero's, Macmillan, Alzheimer's Society, Village Water and Wales Air Ambulance. Each of these charities has been chosen based on some of our staffs very personal stories and experiences
Pleased to be supporting: Health Awareness Day on Saturday 22nd April at Oswestry Library, Shropshire!
Come and have a chat - We would love to see you
New NHS Echocardiogram clinic in Ludlow
Read the local press article here http://www.ludlowadvertiser.co.uk/news/ludlow/15122887.New_service_at_Ludlow_GP_surgery/
1 month in as Lead Provider for Non-Obstetric Ultrasound in Dartford Gravesend and Swanley!
Its been a fantastic month, and the feedback is extremely positive from GPs in the area:
"An amazing service"
"It is a really great service"
"Really pleased with it"
"The service is that good that your booking team were calling the patient before they had even left my practice!"
We always strive to do our best! If you have any feedback on our service please get in touch.
We have qualified and are starting to set up ultrasound clinics in Coastal West Sussex CCG!
If you would like to know more about hosting your own NHS community ultrasound clinic with PML, please contact Zahra Mamoojee on 07866 963737 or email Zahra.mamoojee@nhs.net to find out more about this opportunity, the income to be generated and the benefits to you and your patients.
Physiological Measurements Ltd - New Ultrasound Lead Provider for Dartford, Gravesham and Swanley CCG (3rd January 2017)
From 3 January 2017, patients in the Dartford, Gravesend and Swanley area referred for ultrasound diagnostic tests - an important step in diagnosing patients suffering with many conditions such as cancer, kidney stones, blood clots or muscle pains - will receive a more joined-up service and multiple clinic locations.
Patricia Davies, Accountable Officer of NHS Dartford, Gravesham and Swanley CGG, said: "We are delighted to work with this new provider to ensure that they provide high quality diagnostic services for our patients. This new process aims to provide patients with a timely local service."
Exciting News!
We have been shortlisted for Medlink Medical and Healthcare Business Awards 2016 - Partnership with the NHS
We didn't win this year - but we were referred to as exemplary finalists!